Sunday, July 20th 2003 – Day One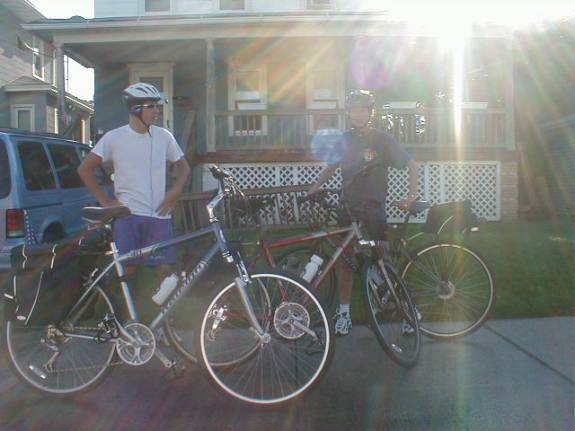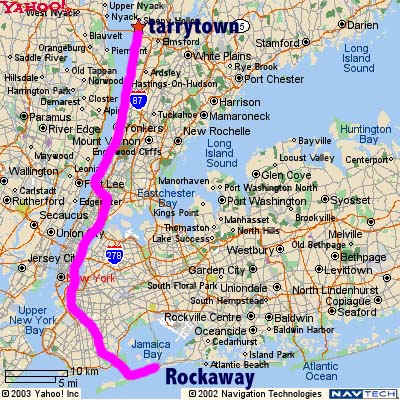 DAY ONE STATS:
Miles: 49 Time on Bike: 3:52 Start: Rockaway Finish: Tarrytown
Jump to: Day Two Day Three Day Four Day Five Day Six Day Seven
We woke up early, 0630, a little nervous about the unknown road ahead. We put the packs on the bikes, got some last minute items and headed out by 8:10. Flatbush on a Sunday morning isn't too bad, but it was a new experience for Mike and Rita There was some dodging traffic and uneven terrain, and at one point they were setting up for a street fair in Crown Heights, but we were high atop the Brooklyn Bridge in an hour and feeling confident.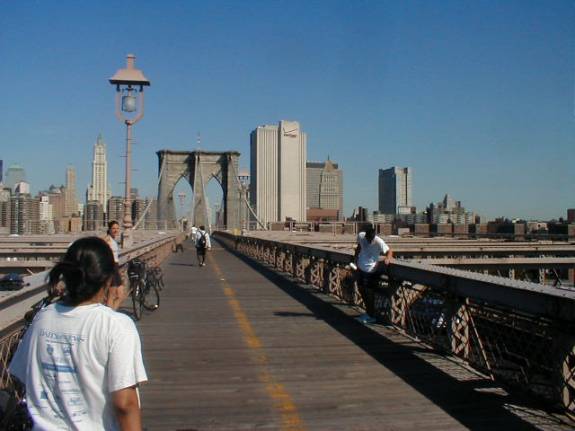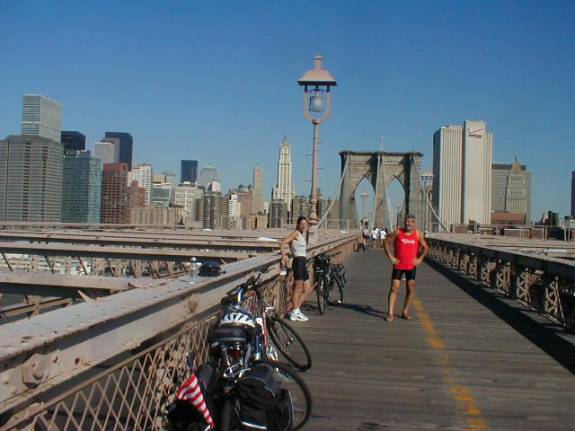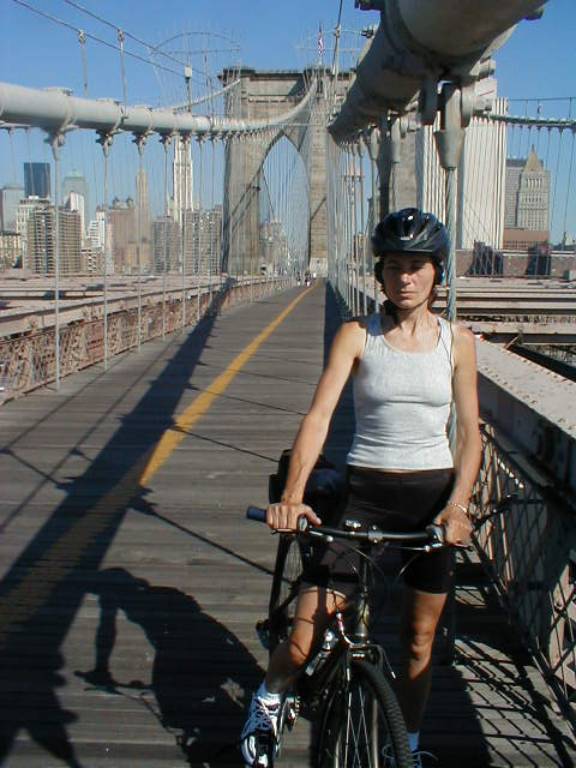 We took the bike trail by the East River alongside and under the FDR Drive, and found a nice kiddie park with a sprinkler that cooled us off. We stopped off at 34th Street for a sidewalk breakfast and then headed up 1st Ave. Again Sunday morning traffic was light and we were heading across 126th Street to Amsterdam Avenue in no time. That's when we had our first of many tests, the giant hill on Amsterdam Ave. from 127 to 137th St.
We took Broadway up next through Washington Heights, past the GW Bridge, past Dyckman St. past Manhattan College area, into the Bronx, Van Cortland Park etc. There is a little bridge at the top of Manhattan called the Broadway Bridge which separates the two boroughs. Broadway is actually a part of Route 9, and route 9 is called Broadway in a lot of little towns upstate as we were to learn. We stopped for some refills of water at Van Cortland where they were setting up some giant white tents for a wedding.
We were happy to see the sign, "Welcome to Yonkers"! Boy were we wrong. Yonkers was a torturous climb, hill after hill – a mountain of a city. There were some nice views of the Hudson, but we couldn't enjoy them. One thing we learned though was that Rita's hard work had paid off. She blew us away on the hills and left us far behind. There were of course some great downhill's too, a little dangerous as we topped out at 32 mph on some winding roads.
When we saw the sign for Hastings on the Hudson we were glad to leave Yonkers behind. Next came Dobbs Ferry a cute little town. We were getting tired (Mikey and Me) so we stopped at a Pizza place to get some more drinks, rest, and look at the map.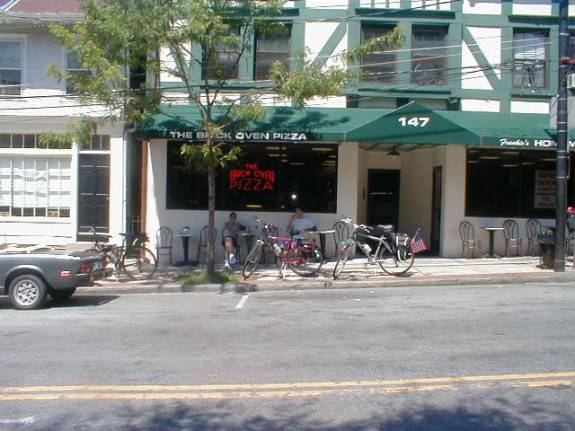 We were surprised to find out we were within 3 miles of our day one destination! We excitedly drove to Courtyard by Marriot and showered, swam in the pool, hot tubbed, ate, went to Church, and ate again. The hotel had a long driveway which was a giant hill. When it was time for church we dreaded having to get on the bikes and climb some more hills, the church was about 3/4 of a mile away, but it was all hills. When it came time for dinner later we didn't want to get back on the bikes, so we ordered Italian food from a pizza place to our room. At the end of the day we were spent.
Jump to: Day Two Day Three Day Four Day Five Day Six Day Seven