July 21, 2003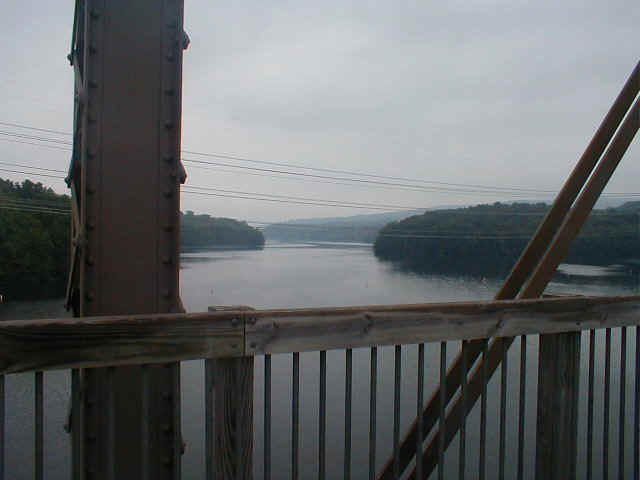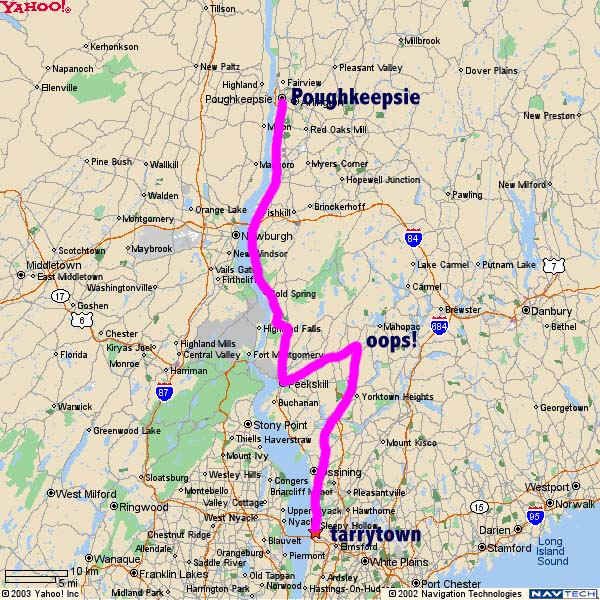 the quickest way from point A to point B is a straight line, but as you read you'll see we didn't quite take one.
DAY TWO STATS:
Miles: 65 Time on Bike: 5:20 Start: Tarrytown Finish: Poughkeepsie
Jump to: Day One Day Three Day Four Day Five Day Six Day Seven
Within three minutes of leaving our hotel, (courtyard) in Tarrytown, I saw an older man cycling and decided to pick his brain as to what would be the best route. There was Route 9, and Route 9D. Each seemed to be about 15 miles to Peekskill, (the perfect distance for breakfast) so I thought the guy would know which would have less traffic, less hills, etc. The guy, Dave, had a completely different idea.
"Nine, that's too much traffic, follow me and I'll take you to the best bike route," Dave promised. Since this conversation was going on while we biked through the streets of Tarrytown, it was time for an instant decision as Dave was ready to turn off of nine. I wasn't sure what to do so I asked, "how far north does this route go?"
Dave replied, " it goes all the way into Canada." I didn't know it at the time but Dave was a sarcastic kind of guy and that was a joke.
So I made my decision and told the reluctant Rita and Mikey to change course, go against The Plan, and head in a new direction, based on a one-minute conversation.
Now is a good time to talk about The Plan. When partaking on a trip of this unknown magnitude it is a bit frightening to face the unknown. When I mapped out a plan, showing each day's progress on the map, exactly what route, how many miles a day, available hotels at each destination, etc. it is the one thing that the group can grab on to, to give confidence and reassure them. The fact that I was willing to discard The Plan on a whim was not sitting well with Rita. I spent weeks selling the plan to her and now I was willing to abandon it based on a one-minute conversation with a guy who wasn't much of a biker. He led us up some giant hills at a snails pace and more disappointingly was slower going down the hill. Rita would stop on top of the hills to let Dave get far ahead so she could fly down. We couldn't pass him because we didn't know where we were going. As we drove though, I picked Dave's brain about the trail.
In the 1800's to the 1950's there was a railroad called the Putnam County Line, or as the locals affectionately called it, "The Old Putt." Since it closed it was paved over with about an eight-foot wide road, open only to bicycles. It ran through the woods and was pretty level with little to no hills. Once in a while it would run through some small towns and there would be an old abandoned railroad station. It was actually very beautiful especially an old bridge that went over the reservoir.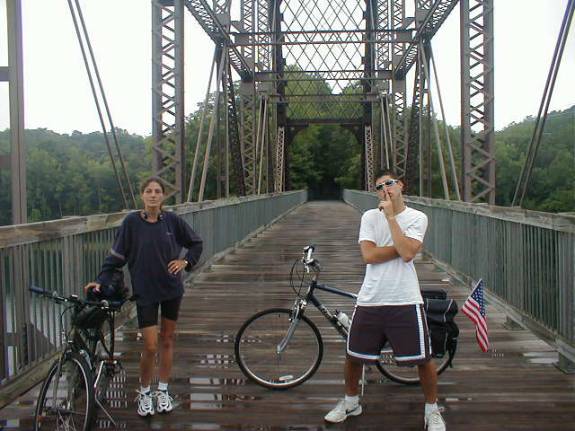 Mike and Rita on the Reservoir Bridge, The beauty could not overcome the diversion though.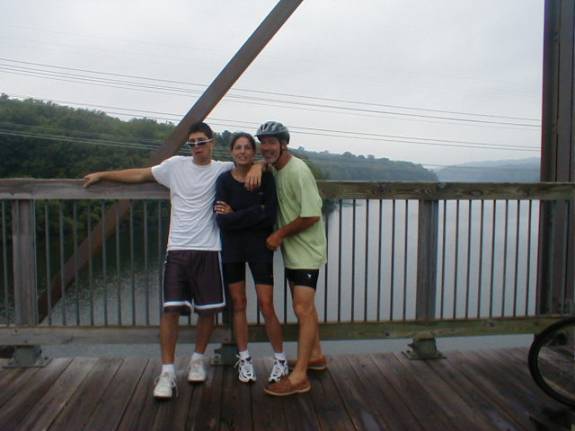 The only problem was that it headed north east, taking us further away from The Plan. And the last thing Dave told us before we split with him was that it only went for 20 more miles north where it ended. He was, as you now know, only kidding about Canada.
Rita ordered me not to talk to any more strangers about the trip. On the Old Putt though, I couldn't help to talk to two pretty, twenty something women who stopped to drink water on their bike journey. I had to half lie to Rita and tell her I was just flirting with them. That would be okay but I was really trying to get some more shortcuts. They made some recommendations for when we finished with the Old Putt. Rita wasn't impressed.
When we got to the end, at Baldwin Place, we stopped at a bagel store to look at the map and figure out what to do. This was the low point of the trip. It was really dark and cloudy now; looking like a storm was coming. We were off track, off The Plan. I asked about five different people for a shortcut to get back on nine, somewhere north. Unfortunately, the only way back to nine was to head southwest, back to Peekskill, the place we were supposed to be an hour ago, having breakfast. It was demoralizing knowing that we were behind schedule, both in time and miles on our asses and legs.
It was a very pretty diversion though, through the woods, over the bridge, and its part of the story now.
We rushed through Peekskill, and headed north on route 9. We saw on the map that we could get to Route 9D which ran right along the Hudson River by taking Route 403 for three miles west, so we decided to do that. It was the fastest and most fun three miles of the whole trip. 403 was an empty road, all downhill to the river. It winded and we topped out at 38 miles per hour. It left us about three miles south of Cold Springs, our destination for a rest, and to meet our friend Gary Weaver, who was going to join us for the rest of the trip.
Cold Springs is a quaint and pretty town right on the Hudson River. They have a beautiful riverfront park with a marina, trees, benches, and a pier. They even had a place where Rita could act out her fantasies.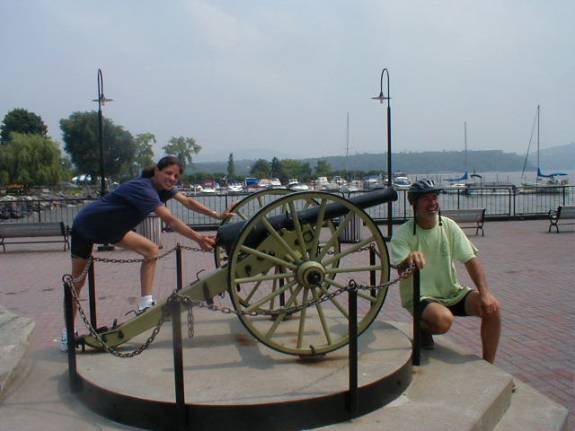 Rita wishes it was loaded.
We weren't that hungry but we were tired so we just drank a lot of water and Gatorade and napped on the park benches until Gary (the Weave) arrived.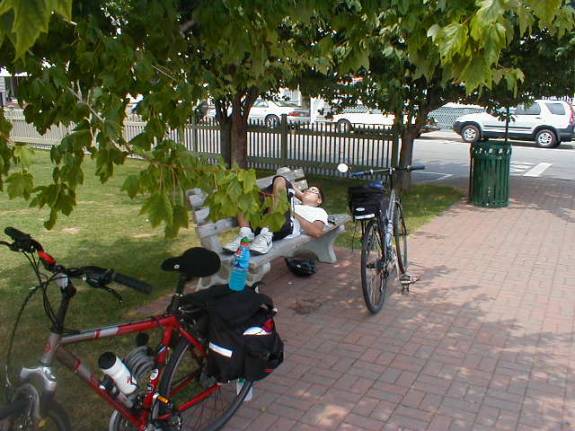 Mike dreams about not taking a bike trip.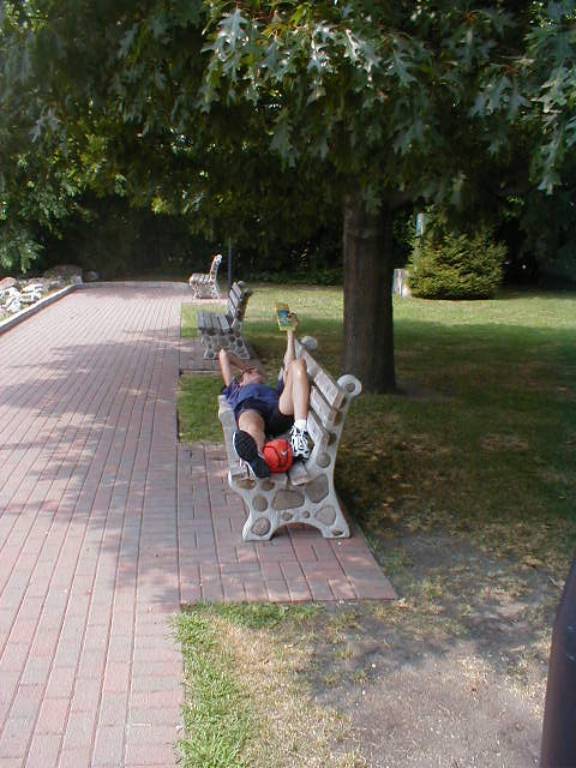 Rita looks at map to figure where I went wrong.
We took off when the Weave arrived, ready for the last 25 miles of the day.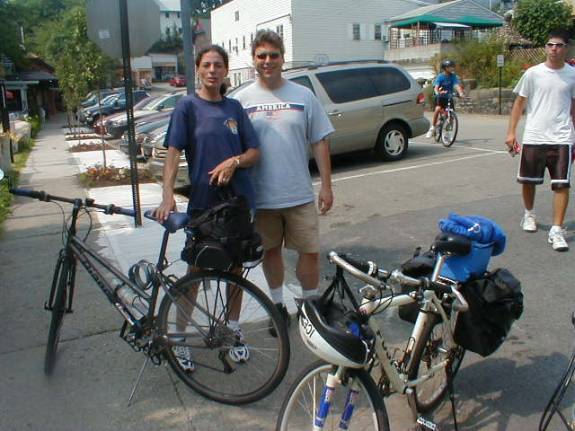 We should have realized what we were in store for in the first two minutes with the Weave, when his bike broke immediately.

The gears were locked and he couldn't move.

After a few adjustments though we were on the road again.

9D was a nice ride, right on the Hudson river, some nice towns, Cornwall and some rundown ones, (Beacon).

A surprise was Wappinger Falls.

Made famous by the Tawana Brawley fiasco we expected it to be like East New York.

But it was a pretty town with nice people.

The houses were well kept and pretty.


We got to our destination, Poughkeepsie and it was a big town.

It reminded me of Sunrise Highway.

The hotel that was in "The Plan", was a nice Holiday Inn with a nice outdoor pool, but the man at the counter said there were no rooms.

Rita didn't believe him, figuring he lied because I looked like a homeless man, a sweaty tank top, old Tom McCann's moccasins with no laces, unshaven, etc.

He sent me down the block to another Courtyard by Marriott.

It was exactly the same as the night before Courtyard except there was a nice bar/restaurant called the Coyote Grill next door.

We had a nice dinner there and headed to the hot tub and pool.

(no towels)

Gary stayed in the bar when we went back to watch the rest of the Yankee game.

The hot tubs were great at relieving the pain in our legs, backs and neck muscles.

It's also great at putting tired men and women to sleep.


A tremendous lightning storm hit with torrential rain.

John had considered meeting Gary to watch the rest of the game but the rain and the effects of the hot tub was too much so the night came to an end.
Jump to: Day One Day Three Day Four Day Five Day Six Day Seven