Queer Eye Show and Party a Success!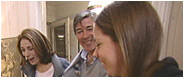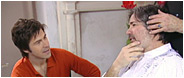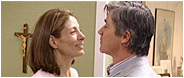 Shots from the show!

Brian Monaghan and Paul were great! Great friends, like all the guests.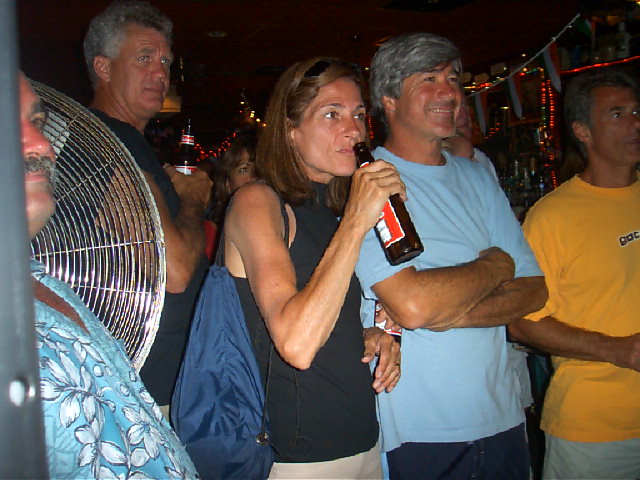 Rita and John enjoy the show.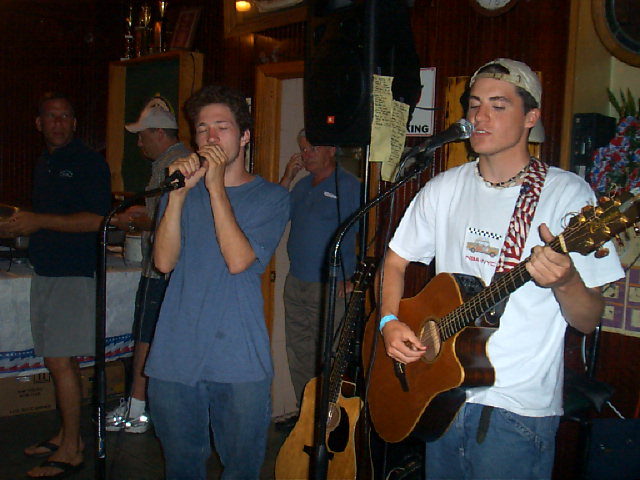 Rising stars, Pete Ryan and Brian Sica perform.
What a night! A packed house of over one hundred of John's closest friends partied to the music of the Brian Monaghan band, and other guest musicians, then watched the debut of John's Queer Eye episode as if it were a football game, cheering every verbal assault that John (Ultimate Straight Guy), his family, friends and the fab five had for each other. it was one of the series best shows ever and the crowd had a great time. The food and hospitality were excellent as Carmel and Jimmy were gracious hosts, along with bartender Glen. Here is a synopsis of the show from the queer eye site:
Here is what Bravo wrote on their web page:
Episode 129
RAISING THE STAKES
Name:
John S.
Age:
46
Height:
6'0"
Weight:
180 lbs
Status:
Married
Occupation:
Teacher/Retired Cop
Category:
The Ultimate Straight Guy
Location:
Rockaway Beach, Queens
Event:
Poker Night


As a wise man once said, "you've got to know when to hold 'em, know when to fold 'em." We think he was talking about cashmere sweaters, but it turns out to be just as true of poker. This week, we've got a poker-playing dad who is ready to walk away from bad hair and bad beer, and run straight to the Fab Five for help.

John is a teacher and former police officer who likes to get together with his friends and sons to play cards. He would like to see their poker night become a little more swank, and his wife Rita would love to see the same happen to his dull wardrobe and their semi-furnished home. The Fab Five's Mission (with the help of guest expert Phil Gordon): give John the poker skills and style help he needs to turn his casual card game into a poker night to remember.

PROBLEM AREAS
...years spent on the beach without sunscreen or moisturizer have left him with dry, cracked skin.
...his wardrobe is long on t-shirts and shorts, worn even in the dead of winter.
...you might think the mottled green paint in his living room was the worst you'd ever seen — until you visited his bedroom and saw the blue walls spotted with white, cloud-like dots.
...his face is well-hidden by a beard and shaggy, sheep dog hair.
...has a habit of starting home improvement projects but leaving them unfinished.
...his poker night refreshments: little more than bowl of chips and a cooler of cheap beer.
...his poker playing style: get drunk, lose big.

"All my friends are, like, 'who's that guy? He looks like a hippie'." — his son



Want to know what happens next? Check out our

Episode Synopsis

for photos and details.




Episode 129
RAISING THE STAKES:
JOHN GOES ALL-IN
Being a cop must have been hard work, because John sure is taking it easy now: super-casual clothing, unfinished home improvement projects all around the house, and straight-from-the-bag snacks at his monthly poker game. But a little effort can often go a long way, as John is about to find out...

Interior Design
John's day begins with Thom at the furniture/hardware store. Together they shop for some big, new pieces as well as some of the little things he needs to finish off those incomplete projects. Touring the store, they select curtains and dining chairs — or, in John's case, poker chairs.

The family living room is brought to life with little touches: new drapes, striped throw pillows and a sand-friendly flat striped rug. New chairs, new paint and new light fixtures make all the difference in the dining room, while shuttered doors restore some privacy to the kitchen when the poker game is on.

Food
Ted has said that "life is too short to drink cheap booze," and that maxim certainly applies to bad beer. Fortunately, he and John don't have to travel too far to sample exceptional suds as they head across the East river to Brooklyn's top craft brewery. After a tour of the premises, they taste a variety of beers including a pilsner and a lager. (You can see Ted holding a glass of stout, too.)

Over beers in the kitchen, Ted shows John how to make three great sandwiches: a muffaletta, a red pepper caprese and "the Rockaway club." (Only the last of these is actually seen in the show.) Recipes for all three are — as usual — in our Hints & Tips section.

Culture
Once Jai frees himself from John's handcuffs (remember, kids, always make sure there's a key handy), he brings John and Thom to a downtown billiard and gaming supply store. There they pick up a green felt poker tabletop and a set of monogrammed poker chips. Having the right equipment is one thing; knowing what to do with it is another matter entirely. To supply some much-needed poker savvy, Jai calls on Celebrity Poker Showdown expert Phil Gordon. You can review them for yourself in our Hints & Tips section.

Grooming
Upon first meeting John, Kyan declared, "now that's some hair I can work with." A trip to the salon offers him a chance to make good on that promise, supervising a new haircut that provides added texture and movement. Aside from the new 'do, he is treated to a manicure and pedicure.

John has spent years on the beach without sunscreen, and it shows in his sun-damaged skin. Kyan recommends a line of sunscreen and lotions, with a minimum SPF of 15.

Fashion
One of the great things about having a job with a uniform is that you never have to worry about what to wear. Since John left the police force, he's been living and working in Rockaway Beach and has adapted his wardrobe accordingly. Still, beach-y and dressy are not mutually incompatible, so Carson helps John find more stylish variations on his favorite theme.

Those new beach-y items will have to wait in the closet; poker night calls for something a little more sophisticated. Although it's not his usual attire, John looks dashing in a light green shirt, lightweight slacks, loafers and a sports jacket. Even more swank is a blue shirt with dark blue pinstripe jacket, accessorized with a pocket handkerchief and lightly tinted sunglasses.

The Event
John starts — where else? — with a beer in the kitchen, as he fries up bacon and prepares more club sandwiches. Then he heads upstairs for a speed-shave, and a somewhat less than perfect application of hair product. Against Carson's wishes, John opts for the flip-fops over the loafers. (Let's be grateful he got that pedicure.) Still, despite some questionable choices you can't deny he looks pretty hot.

Wife Rita and daughter Trish are flabbergasted by the changes Thom has made. For the first time ever, she's got a finished, fully-furnished home. By prior arrangement with Jai, John has a car pick up the girls and take them to fancy dinner in Manhattan. Just because it's "boys' night" doesn't mean the girls can't have fun too.

The guys show up, and John is surprised to see that Carson has gotten to them, too, dressing them all up in "Sopranos chic." His friends — several of whom continue to wear their shades inside, at night — tease him about his pedicure and his sandwiches, but seem sincerely impressed with the changes. Though John certainly looks like a winner, his game doesn't live up to his look; his dapper nephew nabs the final pot.

The Results
John is a man's man, yet his time with the Fab Five showed that loafers and manicures don't prevent you from doing traditional straight guy things. Maybe a little more practice and a little less beer will improve his future poker performance but, winnings aside, there's no question that John has earned the title of best Hold 'Em Host in Rockaway Beach.

Here is some pictures of the house before and after.
The living room wall before: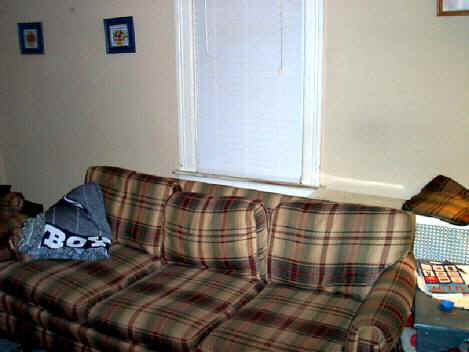 And After:
Here's the new couch: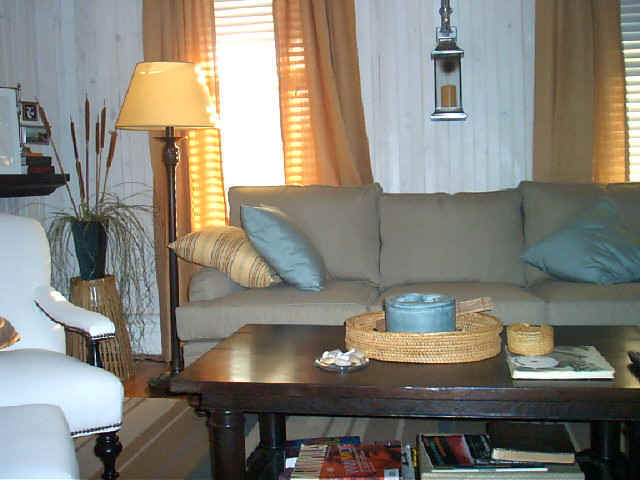 Dining Room got a makeover too!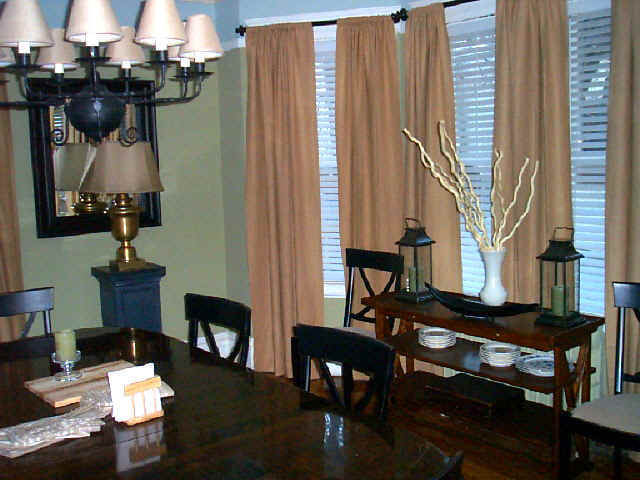 Check out the new Entertainment furniture: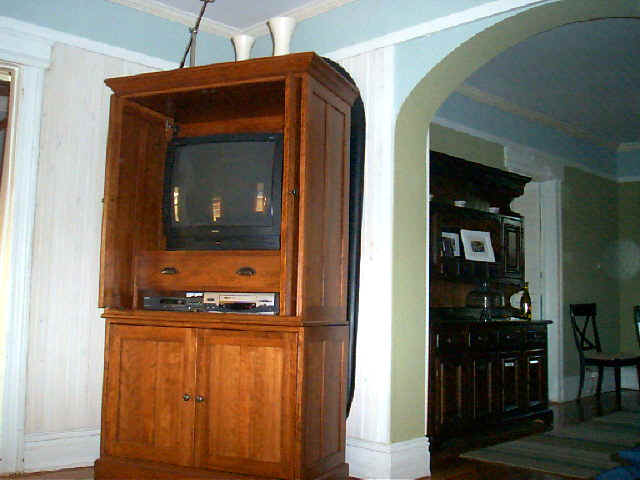 There's more, but you'll have to visit to see it.

Ingredients:
2 slice of white sandwich bread
1 slice of pumpernickle
Mustard
1 leaf lettuce of your choice
1/6 lb. Roast Beef
2 slices of brie
3 slices of bacon
Garnish: 1 Cherry tomato

A sandwich of this magnitude must be built from the ground up. Brush each slice of bread with a thin layer of mustard. By the way, Coleman's is my favorite mustard on the planet. It's a hot English mustard.

Then, lay the groundwork of the sandwich with one slice of white sandwich bread.

Layer the rest of the ingredients on top in the following order: lettuce, roast beef, slice of pumpernickle, brie, bacon, slice of white bread.

Garnish the top of the sandwich by attaching a cherry tomato to the top with a toothpick.