July 22, 2003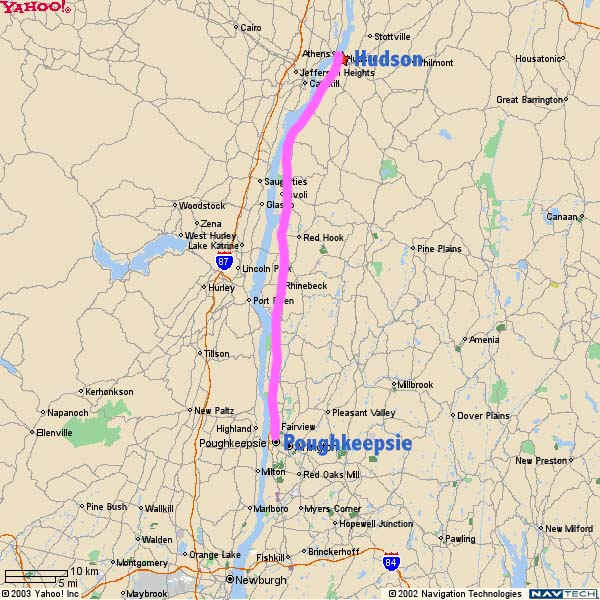 Day Three Stats:
Miles- 48 Time on Bike- 3:31 Start- Poughkeepsie Finish- Hudson
Jump to: Day One Day Two Day Four Day Five Day Six Day Seven
Never doubt the power of prayer. The storm from the night before was only the beginning according to the Weather Channel. As I watched in horror the morning report the lightening storm of last night was just the beginning. The weather map showed the entire northeast from Pittsburgh to Bangor Maine to Philadelphia up into Canada under the wrath of a giant storm. T-storms all day for the entire area. Not only that, but they said this weather was slow moving to stopped and it would be the same for tomorrow. I was nervous and thought about our options.
1. Stay in the hotel today and move our arrival time back a day. But what if tomorrow was no good like they predicted on the weather channel?
2. Try to ride and see how far we make it? But there is nothing between here and Hudson, our next stop on the Plan. What if we are under a mighty storm in the middle of nowhere?
I prayed to God to look out for us and keep us safe. It was raining on and off as we packed up and got ready. Everyone was willing to make the trek to the town of Hudson. When we got outside there was a break in the rain, but our wills were challenged immediately. Within the first two miles Mikey got a flat. We got it in front of the driveway for the most popular diner in Poughkeepsie. People coming and going were very friendly. One elderly black gentleman offered to put the bike in his car and drive us to a tire repair shop up the road. Another lady walking her dog was telling us where we could get it fixed. We of course came prepared to fix flats and make other minor repairs. We were a little confused though about where Route Nine was so we picked her brain about that. We fixed the flat, back tire off, tube out, new tube in, find the sliver of glass still embedded in the inside of the tire, put it back together, pump it up and off we go. Elapsed time ten minutes.
We stopped at the place where the lady told us had a pump, and filled up all the tires on all the bikes, and got water, Gatorade etc. While we were there the lady who gave us directions walked by with her dog and wished us luck. We went under the train trestle and made a left, like she said and there was Route 9.
When we started planning this trip in March we new one thing for certain. We must train and get into shape. Rita took this the most seriously, she didnít want to be struggling to keep up with Mikey and Me. After all Mikey is a sixteen-year-old in great shape, and although Iím an old man, Iím in relatively good shape. Rita biked round trip to work almost everyday, a 38 mile trip each day on top of working hard for ten hours a day. I knew she was ready. I did 38 mile trips sporadically, maybe two, three times a week. Mikey did nothing really on the bike, he went with us twice on a trip and was convinced he was ready. But the Weave on the other hand, thatís another story. The Weave spent the last two years of his Police Career on a bicycle in Manhattan., riding for eight hours a day. But two years had past since then, and we kept inviting him to come with me and Rita on one of our training rides, to Point Lookout, or Bay Ridge. The Weave kept putting off training; I was doubting he would even come. When his friend dropped him off at Cold Springs the day before, I was surprised and happy. But on the last twenty-five miles of the day, one thing was apparent, and no one knew it better than the Weave. He should have trained. He told me that we should drive at our own pace, he knew The Plan, and would meet us at the hotel. We would keep in touch with cell phones. So we split up and headed north.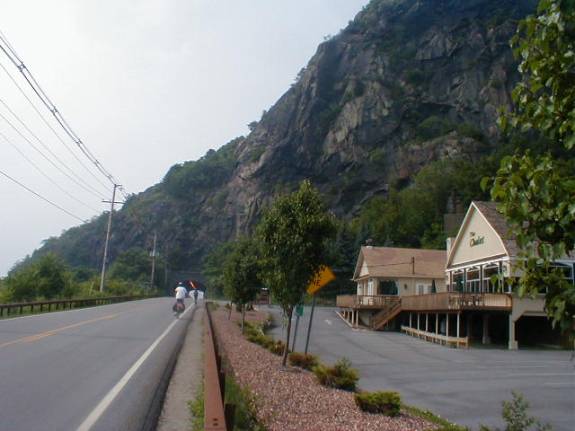 The ride from Poughkeepsie to Hudson was beautiful scenery. We were up there now. Route 9 ran along the Hudson river, we went through towns like Hyde Park, Rhinebeck, Ways Corners. They're called towns but they are just like two blocks of houses and small stores. We passed workers removing trees from train tracks, apparently downed in the storms from the night before. The news reported a tornado had touched down in the area, and some of the towns we drove through were without power. We got some cold water in a dark store, the lady had put the waters in coolers with her last ice. It was kind of a depressing area, I felt like we were in Appalachia, there were toothless people sitting on their front porches with their whole families, without power. (made me feel like Rockaway) I felt guilty buying two waters each.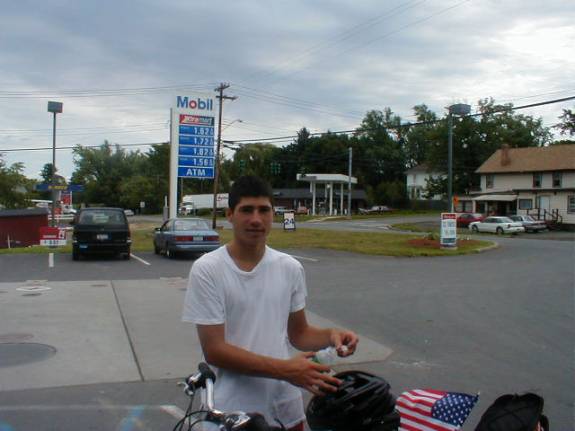 This picture was taken in front of the store where we got the water. If you could see the traffic light behind Mikey, you would see there is no power, but its probably too dark to see.
Speaking of the storm as you can see from these pictures, God was looking out for us. It was overcast at times, partly cloudy at times, a brief appearance from the sun once or twice, but the entire northeast under storms? Not for us. We stopped at this hardware store and brought some pliers and some allen keys because Mikey was mad that his brakes were rubbing so he pulled the cable out. I guess I should have had those tools packed when we left. We fixed his breaks. While I was there I brought an American flag like Mikeys.
At Ways Corners 9 and 9G intersected. We looked at the map and 9G seemed to be shorter and along the Hudson River so we took that. I called Gary and told him to take 9G, he told me he had already experienced some rain, so I knew it was not far behind so I told Rita and Mikey to keep rolling on ahead of the rain. We went through Tivoli, a town that was trying to raise money for the old red church in the cemetery. They had one of those signs with a thermometer that show how much progress they are making in there fundraising. Not much. When we got to Germantown we knew we were within seven miles of Hudson, our destination, and were relieved.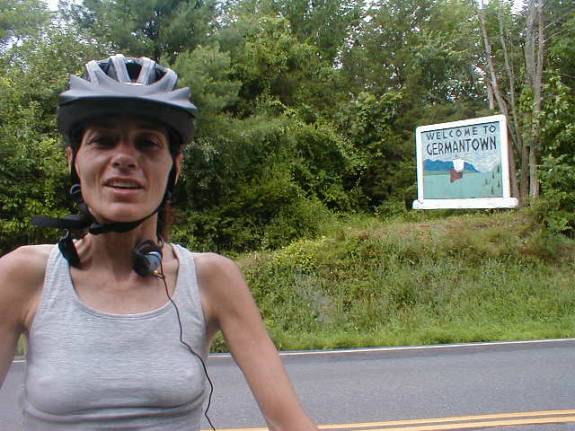 We still had some nice roads leading up to Hudson.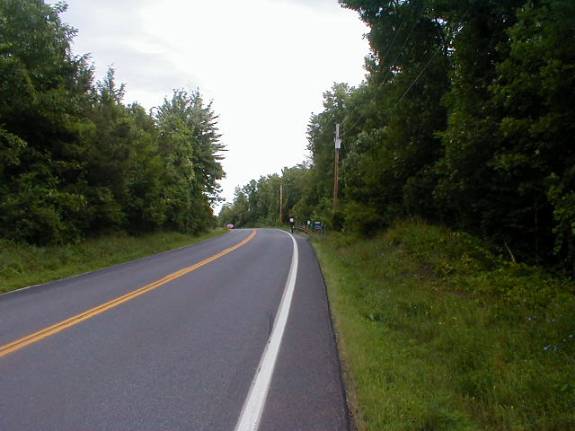 If you look closely youíll see Mikey riding ahead, just before the turn. This picture gives you an idea what most of the roads we drove on looked like, although the shoulder doesnít look that wide, it gave us plenty of room to ride.
As we approached the town of Hudson though it looked a little like a diverse city. We got into the middle of town and there was a really nice park, with a fountain in the middle. There was an information kiosk so I talked to the girl inside, about the hotel in The Plan, but she never heard of it. Right across the street though was this nice old classy place called the St Charles Hotel. The stores around the park though were a little run down, but we didnít have much choice so we went into the hotel to check it out. It seemed nice enough, and the price wasnít bad either. It had a room called the Kings Suite, which had a connecting room and views of the park from the top floor. For some reason though we werenít convinced so we told the girl weíd be back and headed further north on route nine to find another place.
I was pushing God to the limit here, I asked him to get us safely and dryly to Hudson. Not only did we get there, but we had a beautiful hotel staring us in the face, but we wanted more. We got two mile north of the Promised Land and the sky opened up on us. A torrential downpour that soaked us to the bone. We turned around and retreated back to the St. Charles. The girl laughed at us when we came in to get the Kings Suite looking like court jesters, soaking wet. We felt great when we got upstairs, showered and got dried off.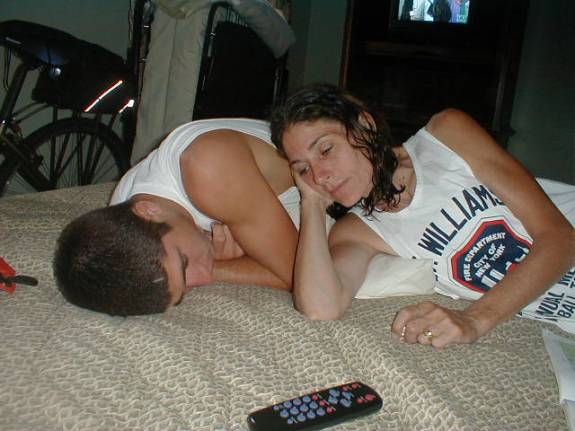 When we got settled we called The Weave who had not been as fortunate as us. He was hiding under some trees in Warrensburg trying to dodge more storms. We told him where to find us and waited for him relaxing. Unfortunately we noticed that Mikey's American flag was missing so we were glad that I had brought one.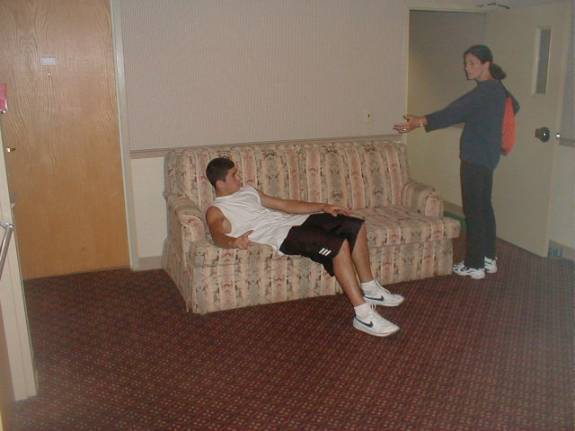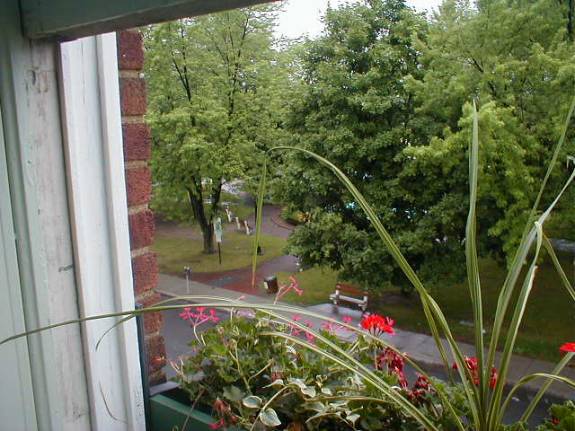 View from window.
The Weave finally made it, and we asked him if he saw an American flag on the road. He did, and he said he was wondering about that. We did some laundry in this rundown place called the Captains Laundromat. The captain was in and he didnít mind us drinking a sixpack while we did our laundry barefooted because we needed to dry out footwear. It was that kind of town. We imagined Chief Morange, our old boss who thought weíd amount to nothing stopping in to ask for directions and seeing us barefoot, drinking, in a run down town working in a Laundromat.
We went to the movies at night, we had seen the theatre when we got caught in the rainstorm, and had a nice dinner in an Italian restaurant that was owned by some ex Brooklyn people. We took a cab to the theatre and the driver was hilarious. He looked like a young Robert DiNero, and told some wild stories about how he was taking over the cab business in Hudson. It sounded like he was strong arming everyone else out of business, including mysterious deaths, and retirements. He was also from Brooklyn and used to own the Dairy Dell on Quentin Road with the cow in front of it.

Before we left I took this photo, if you look at the top three left windows, you can see Mikey Rita and Gary in each.
Check out Day Four in which Gary almost gets killed and Mikey meets Frankenstein.
Jump to: Day One Day Two Day Three Day Four