Teddy wins second tournament!
knocks off Brian who comes in second again.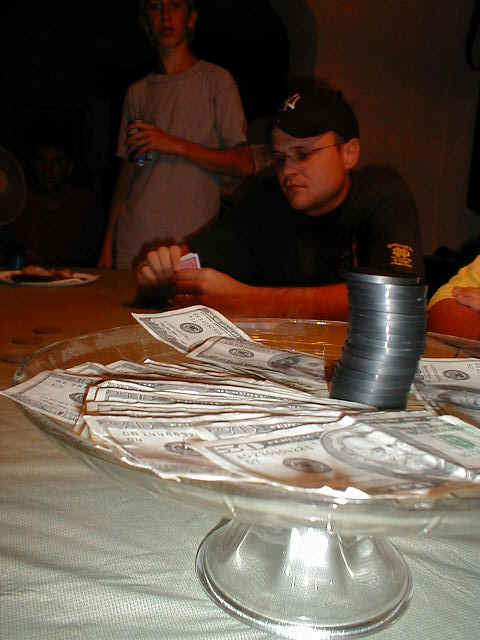 The Pile of Cash awaits Ted as the showdown is down to two.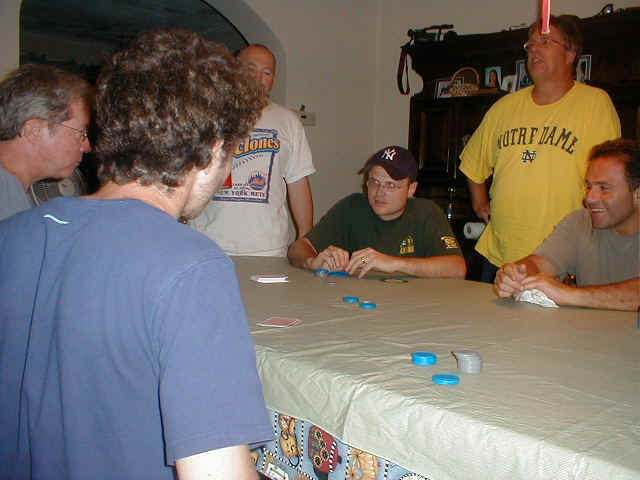 Things were getting heated, the grays are hundreds, as Teddy and Brian square off.
August 22, 2003 Rockaway
Teddy Sica and his cousin Brian knocked out Joe McGivney late in the game and then squared off in an exciting finish. With the other eight eliminated players looking on, Teddy came back from a big deficit to overtake Brian Sica and win the second Rockaway Satellite tournament. For Brian it was his second-straight second-place finish. New player George Mastorides got off to a lightning fast start, but the nuances of the game caught up to him. Joe's nephews from New Jersey, Andy and Matt were a welcome addition adding their insights and humor to the party atmosphere. Host John Sica cooked up a storm when he was eliminated and a good time was had by all. Brandon and Sal played stronger than the first tournament and finished in the money.
| | | | | |
| --- | --- | --- | --- | --- |
| Finish | Player | $$$$$$ | +/- Awards | Total |
| 1st. | Ted Jr. | 375 | -12 | 363 |
| 2nd | Brian | 225 | -9 | 216 |
| 3rd | Joe | 150 | -6 | 144 |
| 4th | Ted Sr. | 100 | +10 -3 | 107 |
| 5th | Bran | 75 | | 75 |
| 6th | Johnny | 50 | | 50 |
| 7th | Sal | 25 | | 25 |
| 8th | Matt | 0 | | 0 |
| 9th | George | 0 | +10 | 10 |
| 10th | Andy | 0 | +10 | 10 |
Click here for other game results:
Game 1 results Game 2 results Game 3 results Sica Home Page