Sal Wins in Biggest Satellite Yet!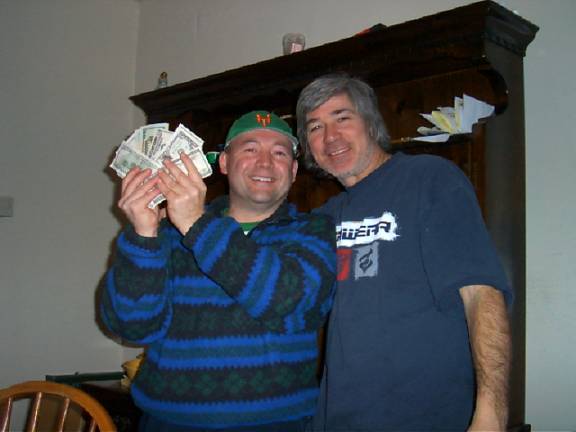 Why is this man smiling?
In the biggest satellite tournament in the Rockaway Sands Casino history, Sal came away with first place and $450. As fifteen good players gathered, the stakes were raised to a record $1,500 dollars in prize money. Many new players enjoyed their first tournament, especially Billy Gill, who came away with $150 for fourth place.

Bran has the big stack, but he stresses as its about to dissappear.
Brandon Sica continued his strong play, taking second for $262, his third straight winning outing. His brother Teddy also made the final four, so it was brothers against brothers-in-law, as Joe McGivney joined his brother-in-law Sal in the final four showdown.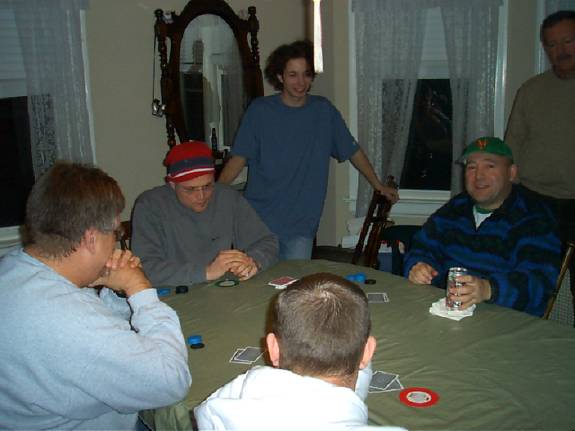 Brian sat out for the second straight game, but as the field catches up with him he may be forced to defend his top money lead.
Joe took third for $202. Host John Sica broke even with $100 for fifth, and last weeks champ Steve was disappointed with sixth for $75. Big Ted and newcomer Ronnie rounded out the money winners.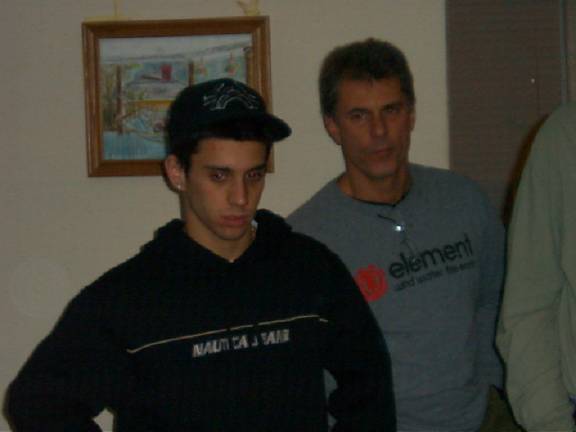 Danny and Matt are anxious to come back strong next time.
Other new players were Brian O Hagan, and Dan and Matty Bursic. Matty got off to a smoking start winning the first four hands and was the chip leader early, but got burned when his set of three nines, was overtaken by Salís three Jacks. He played well but had the one unlucky hand. Joe McGivney was obsessed with his soda not being knocked down, until he knocked it down. Maybe next time he should switch to an amber colored beverage.

Ronnie brought some tasty wings form work.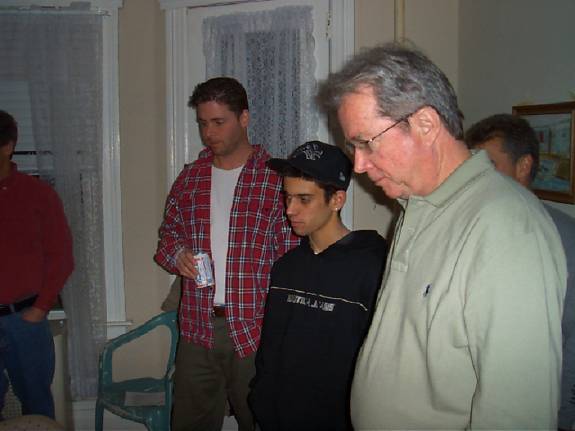 Matty played well, but had some tough luck.
Week six results:
| | | | | |
| --- | --- | --- | --- | --- |
| Finish | Player | $$$$$$ | +/- Awards | Total |
| 1st. | Sal | 450 | -16 | 434 |
| 2nd | Brandon | 275 | -12 | 263 |
| 3rd | Joe McG | 200 | 2 | 202 |
| 4th | Teddy | 175 | -4 | 171 |
| 5th | Billy Gill | 150 | | 150 |
| 6th | johnny | 100 | | 100 |
| 7th | Steve | 75 | | 75 |
| 8th | Quentin | 50 | 10 | 50 |
| 9th | Ronnie | 25 | | 25 |
| 10th | Greg | | 10 | 10 |
| 11th | VJ | | | |
| 12th | Danny | | | |
| 13th | Joe G | | | |
| 14th | Brian O | | | |
| 15th | Matt | | 10 | 10 |
Lifetime stats:
| | | | | | | | | |
| --- | --- | --- | --- | --- | --- | --- | --- | --- |
| | Week 1 | Week 2 | Week 3 | Week 4 | Week 5 | Week 6 | Total | Average |
| Brian | 183 | 216 | 358 | 0 | | | 757 | 190 |
| Brandon | 10 | 75 | 0 | 216 | 119 | 263 | 683 | 114 |
| Johnny | 334 | 50 | 10 | 122 | 50 | 100 | 666 | 111 |
| Ted Jr. | 0 | 363 | 0 | 40 | n/a | 171 | 574 | 114 |
| Sal | 25 | 25 | | 20 | | 434 | 504 | 126 |
| George | | 10 | 77 | 373 | 0 | | 460 | 115 |
| Joe McG | 46 | 144 | | 60 | | 202 | 452 | 113 |
| Ted Sr. | 102 | 107 | 60 | 80 | 25 | 60 | 434 | 72 |
| Steve | | | | | 348 | 75 | 423 | 141 |
| Greg Tracey | | | | 169 | 176 | 10 | 355 | 119 |
| Tom Maneri | | | 191 | | | | 191 | 191 |
| Danny V | | | 154 | | | | 154 | 154 |
| Billy Gill | | | | | | 150 | 150 | 150 |
| Rob | | | | | 72 | | 72 | 72 |
| VJ | | | 50 | 20 | | 0 | 70 | 24 |
| Ronnie | | | | | | 25 | 25 | 25 |
| Joe Grimaldi | | | | 0 | 10 | 0 | 10 | 3 |
| Matt Bursic | | | | | | 10 | 10 | 10 |
| Andy | | 0 | | | | | 0 | 0 |
| Matt | | 0 | | | | | 0 | 0 |
| Brian Ohagan | | | | | | 0 | 0 | |
| Dan Bursic | | | | | | 0 | 0 | |