First Tournament Held!
Family affair a success as John Sica wins on his 46th birthday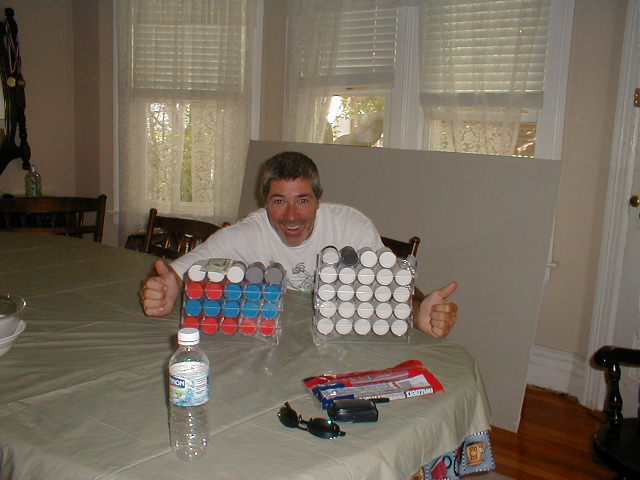 In the first ever Sica World Series of Poker Satellite tournament, Johnny came from way back to overtake his eldest son Brian, who dominated most of the tournament. While John hosted the first tournament, it was the hard work and poker knowledge of Joe McGivney who made the evening a huge success. Ted Sica Sr. fought hard to take third, followed by Joe and his brother in law, Sal. Bran received the $10 first out prize and his brother Ted exited after him for 6th place.
The game started out slowly as the players jockeyed for position, but after the second hour the action was fast and furious as players were challenged and eliminated at a furious pace. Mostly by Brian who played from a position of strength until the final battle against John, who got the cards in his favor for a long closing winning streak with the ante at $50 a game.
Their is no date set yet, but Sica did announce there will be a game in August at the Sica Sands Casino in Rockaway.
Final Standings: $$$$ Awards Total
1st John Sica $350 -16 334
2nd Brian Sica $175 +20 -12 183
3rd Quentin Sica $100 +10 -8 102
4th Joe McGiveny $50 -4 46
5th Sal Maffa $25 - 25
6th Ted Sica 0 - --
7th Brandon Sica 0 +10 +10
Awards
Best Hand Brian Sica for a Full boat nines up sixes.
Best Losing Hand Quentin Sica for a Full Boat Sixes up Nines.
First out Brandon Sica
Ace King buy out Brian Sica
Game 1 results Game 2 results Game 3 results Sica Home Page