July 24, 2003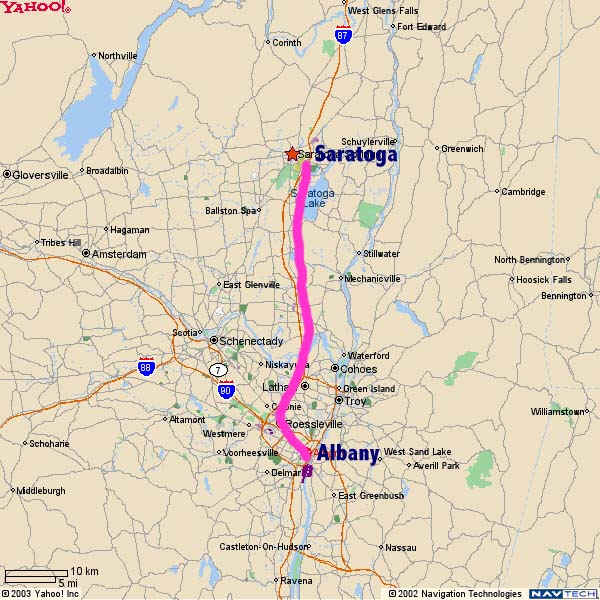 DAY FIVE STATS:
Miles: 29.8 Time: 2:14 Start: Albany Finish: Saratoga
also re-visit day one day two day three day four and Day Six Day Seven
We got off to a real slow start leaving Albany. It was like Route 9 ends at the bottom of Albany and starts up again at the top of Albany, but the map we had didn't show how to get there. We had to stop every five minutes and get the map out and make a decision. Rita took control and went ahead and found the way back to Route 9.
The early going was a drag because we were still close to a big city so there was no scenery and a lot of traffic. But once we got to beautiful Siena College (home of our cousin K-Dawg) things got nice. For Johnny Route 9 brought back memories of his last bike expedition with Jack McManus and Cashman. It was nice road, not too many mountains to climb.
We came to a nice little roadside ice cream stand, called rainbow delights. We were having an enjoyable day and stopped for some more delights.

Cute place huh?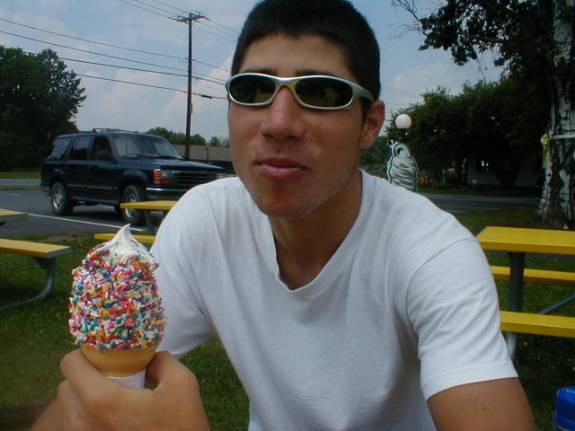 Rainbow delight. Mikey loves his ice cream.
The funny thing was that this was the day the rain was supposed to be over, this was the first day we woke up in the last three days and wasn't worried about our future. But when we were four miles from our hotel in Saratoga, the sky got dark and a few sprinkles came down. I thought we were so close we should just ride through it but Mikey advised us to seek shelter. We pulled into an empty drive-in movie theater and sat under the drive through window where people pay.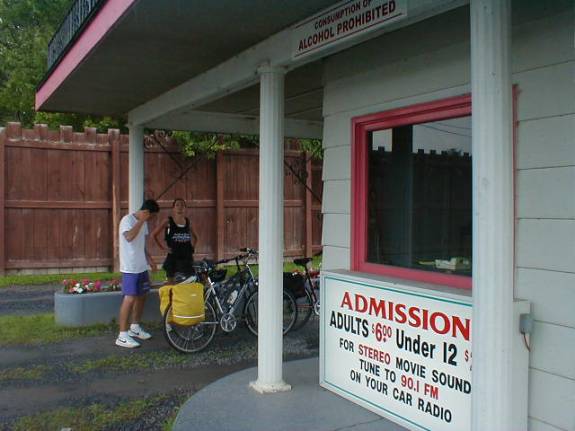 It was a good thing we stopped, Mikey was right. The skies opened up and it poured. It only lasted for about a half hour, we played cards and made phone calls.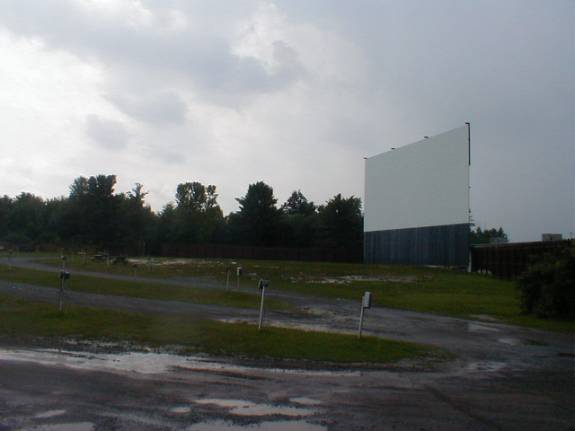 Another short trip for us, 29.8 miles, barely a workout. We passed Round Lake, SPAC, the Grand Union Hotel, many Saratoga memories from past trips. Our Holiday Inn was beautiful. Two pools, Indoor and out, right next to a beautiful park, and two blocks from Downtown Saratoga. We got caught in another downpour in front of the hotel when we tried to go to lunch. We retreated back to the hotel. Mikey dodged the raindrops by serpentine. After that the sun came out and we pooled it, playing more made up games in the pool using our imagination and a superball. We also played cards. For dinner we walked around downtown and settled on a restaurant named "The Stadium". It was good bar food with giant TV's lining the walls with sports everywhere. Rita stayed back and we brought her food. We went through the park, which was busy for nighttime.
Coming Tomorrow, Mikey breaks hearts, and we're accused of breaking the new hotel patio.
also re-visit day one day two day three day four and Day Six Day Seven